NOTICE: The information contained in this Website has been compiled from a number of sources and is subject to change without notice. We have attempted to provide current and accurate information, but incorrect information may appear on the pages. Should you come across any inaccurate information, please bring it to our attention via the contact page as soon as possible.

This server is generally available 24 hours a day, seven days a week. Timely delivery of data and products from this server through the Internet is not guaranteed.
Click on photo's to enlarge their image.
Homicide - Anthony Chaparro
February 22, 2019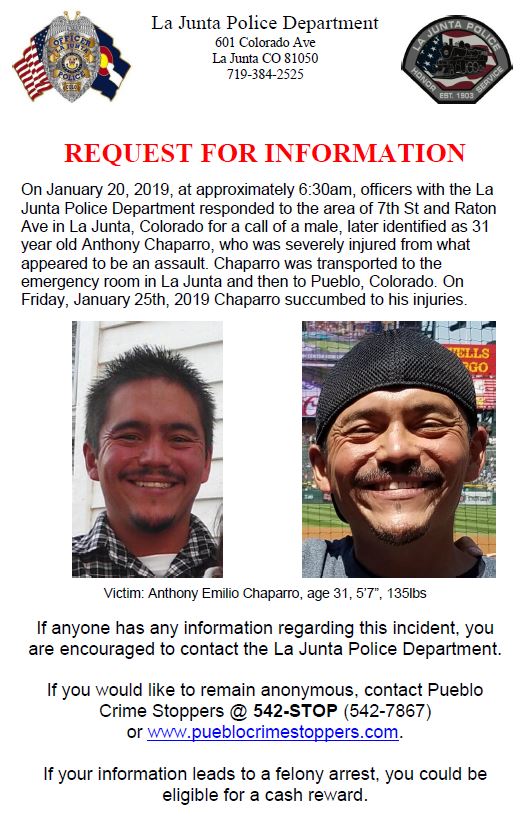 ---
Homicide - Courtney Chinn
September 20, 2003
Pueblo police detectives continue to investigate an unsolved homicide and need information from witnesses or anyone having information about the shooting. The shooting occurred shortly after 1:00 AM on Saturday, September 20th, 2003 in the parking lot of a Sandwich Shop in the 700 block of N. Main Street. When officers arrived at the scene, they found 25-year-old Courtney Chinn bleeding from a gunshot wound to his midsection. Courtney Chinn died the next day from the injuries. Witnesses told the officers that Chinn had been in The Anchor Inn prior to the shooting. While Chinn was in the parking lot, the suspect walked up and shot Courtney Chinn at close range. The suspect then ran west on 7th Street and disappeared around the corner. A dark color low-rider was seen leaving the area moments later. The suspect is described as a dark-skinned Hispanic man, 5'-4" tall, medium build with short dark hair and mustache. The suspect was wearing a blue pullover sweatshirt, blue jeans and white tennis shoes. 03-21798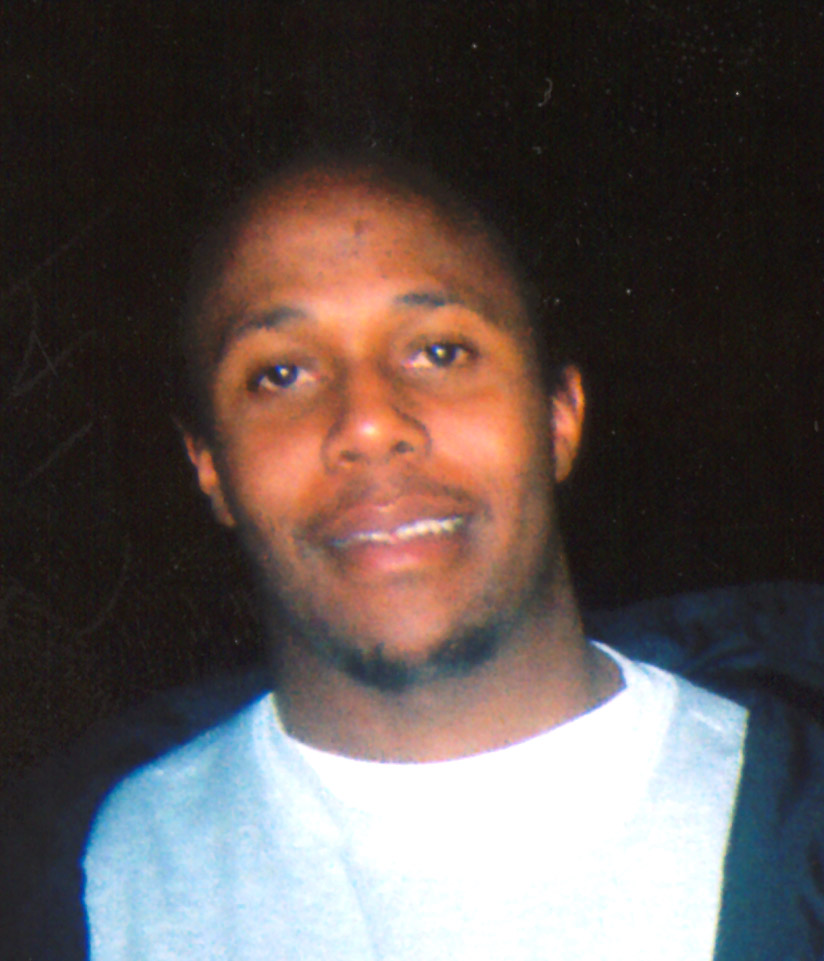 ---
Homicide - Derek Wagner
March 11, 2003
Pueblo Police Detectives are still looking for tips and information regarding the murder of Derrick Wagner. On 03-11-03 at approximately 12:46am Officers were dispatched to 2113 Aztec in reference to a shooting.
Officers arrived on scene and discovered Derrick Wagner suffered a single gunshot wound and was not responsive. Wagner was transported to the hospital and succumbed to his injuries. According to a witness, the doorbell rang and when the door was answered, three black males were at the door and one had a pistol. The males had their faces covered and entered the residence demanding money. Inside the residence a confrontation occurred and Wagner was shot. The suspects fled in an unknown direction.
The Police Department have several people whom would be considered persons of interest but have yet to develop the necessary evidence to bring charges against these individuals. We need the communities help solving this homicide. CR# 03-5318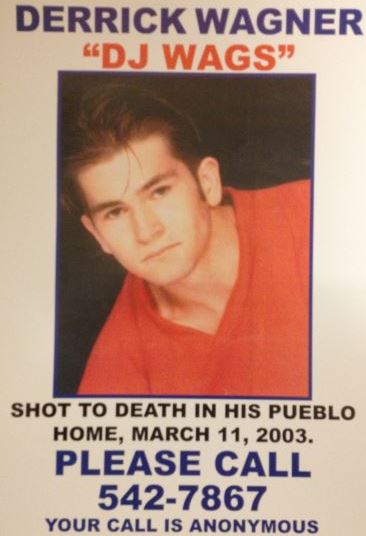 ---
1989 Cold Case Homicide
August 01, 1989
Pueblo Police Detectives are seeking public assistance in identifying a John Doe homicide victim from August 1989.
The victim was murdered and his body was dumped in a river in the City of Pueblo. The victim`s identity still remains unknown.
Victim description at the time of his death are as follows:
White male, approximately 30 - 45 years old.

5` 9" - 5` 10"

Wearing a size small plaid (blue/white/yellow) sleeveless flannel shirt.

Jeans were size 30" x 32"

Estimated weight was approximately 140 - 160 pounds.

Brown hair with partial temporal balding and a red/brown moustache approximately 1" long.
The post mortem sketch was prepared by Forensic Composite artist Cynthia Marsh in cooperation with Detectives involved in this case. Detectives are asking anyone who may have information about the identity of the victim or who may have information about the homicide to please call Pueblo Crime Stoppers at 542-STOP (542-7867). If your information leads to a felony arrest, you could be eligible for a cash reward.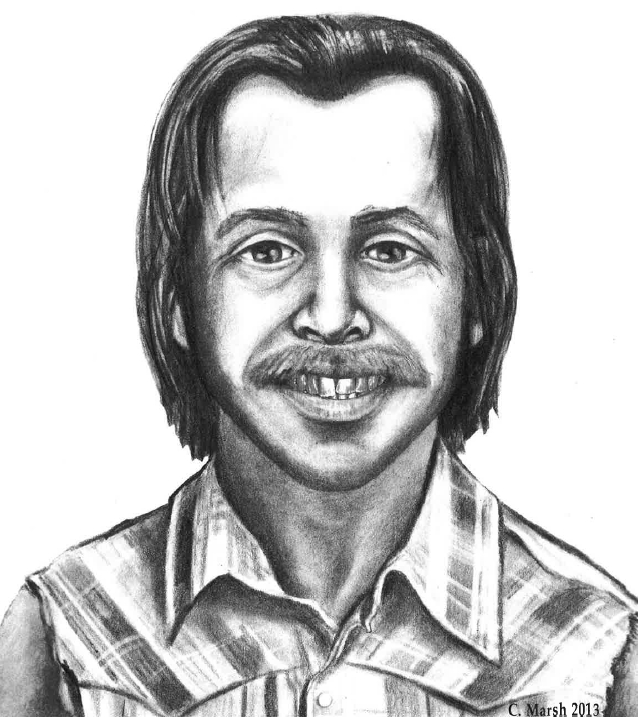 ---